Meet Our Veterinary Team

Dr. Jose Salazar, DVM, MS
Dr. Jose Salazar is the founder of Magnolia Veterinary Hospital. He completed his undergraduate work in 2004 with a bachelors in animal science, followed by a masters degree in equine reproductive physiology in 2009, and then his Doctor of Veterinary Medicine degree from Texas A&M Veterinary school in 2011. Dr. Salazar enjoys all aspects of veterinary medicine but holds special interests in surgery and internal medicine cases.
Dr. Salazar highly values client-patient-doctor relationships, thus helping to strengthen the bonds between pets and their owners.
When not working Dr. Salazar loves to spend time with his wife Rebecca and son Rex. Having grown up on a ranch in central Texas he enjoys riding horses and working cows. Dr. Salazar has also managed to juggle a music career as Doc West Music since just prior to veterinary school. He still writes, records, and performs country music in the Texas Music scene.
Rebecca S Salazar, DVM, DACVAA
Dr. Rebecca Salazar received her DVM from Texas A&M University School of Veterinary Medicine in 2011. She complete her anesthesia and analgesia residency in 2015. She works at Gulf Coast Veterinary Specialists, and offers cardiac echocardiograms with us at MVH. She consults with Magnolia Veterinary Hospital and provides assistance to our management staff.
She has a particular interest in high risk anesthesia patients and pain management. When Dr. Salazar is not working she enjoys spending time with her husband Jose and son Rex. She also enjoys horseback riding and traveling.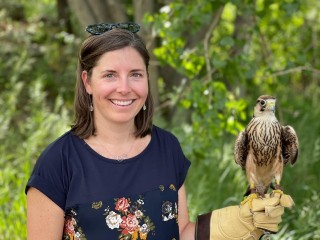 Dr. Kimberly McGinley, DVM
Dr. Kimberly McGinley is a 2006 graduate from the Texas A&M College of Veterinary Medicine. She loves the relationships that are developed in day practice as well as the excitement of emergency medicine. Her clinical interests are dentistry and internal medicine. She enjoys teaching and mentoring youth that are interested in the veterinary field.
When away from practice, she stays busy with her husband Chris, their four children and their menagerie- which includes a Great Dane, a Weimaraner, ducks, chickens and a turtle. She is an avid baseball, equestrienne and dance mom.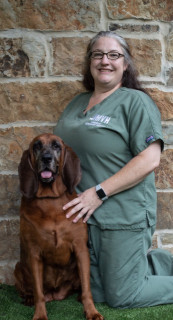 Amy, LVT
Amy received her Associates of Applied Science degree from Northwestern State University in 2005 and became a Licensed Veterinary Technician the same year. She has worked in Specialty/ Emergency medicine for the past 8 years. Amy has a passion for our feline patients and loves to spend time with her own cats Teddy and Richard as well as her bloodhound Charlotte.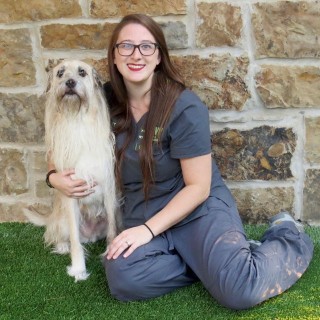 Emily, LVT
Emily was born and raised in Conroe, now in the Woodlands. She graduated from Conroe High in 2009, and went to Lonestar Montgomery to get her core coursework completed. While deciding "what she wanted to be when she grew up", she got a job at a veterinary clinic. Emily started working in boarding and worked her way to VT assistant. She immediately fell in love with the veterinary field and the next year applied to LSC-Tomball continuing to work in the field while in school. Emily graduated in 2016 with Associates of Applied Science (Veterinary Technology). Emily is married with 2 young boys at home. She also has 2 cats and a tortoise.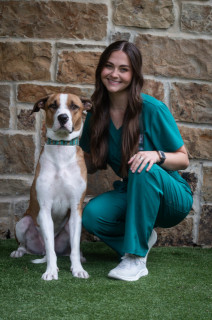 Madi, LVT
Madi was born and raised in Magnolia and is our newest Licensed Veterinary Technician here at MVH. She has been a part of the team for a little over a year but has had previous veterinary medicine experience. She graduated from the Lone star college veterinary technician program with an associate of applied science in May of 2022 and recently just passed her vet tech national exam. Her love for animals has always been a big part of her life and enjoys spending time with her fur babies, Lexi a 15 yr old chihuahua pug mix, Ellie a 9-year-old Boston terrier mix, and Winston, a 2 year old rescue dog. Outside of work, Madi likes to spend time with her boyfriend and parents. She looks forward to what the future holds for her in this field and gaining new knowledge every day.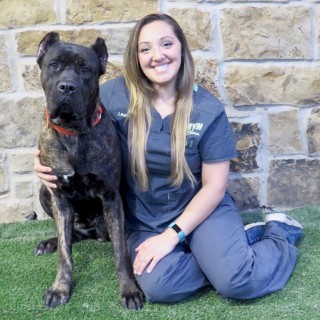 Lauren, CVA II
Lauren was always an animal lover, so of course veterinary medicine ran through her blood. Her adventure began in 2009, when she was working nights at a large animal hospital. After her first surgery, she knew she was hooked and wouldn't look back. She moved to small animal medicine in 2013. Working in wellness and emergency, eventually getting certified. She continues to make leaps and bounds and she is persistent to never stop learning. She truly enjoys being a nurse and lending a helping hand in any way she can. She is an avid bully lover and conoscere. When she's not working she spends her time with her family and her 3 dogs; Phoenix and Ronan that are American bully's and Kalypso the Cane Corso.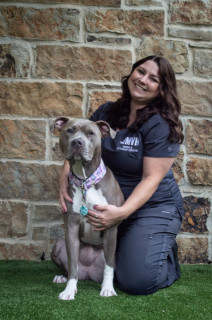 Amanda, LVT
Amanda graduated from Veterinary Technician Institute of Houston in 2009.She has worked in hospitals in Texas, Pittsburg and for the past 4 years in Ireland. Amanda has experience in small animal, mixed animal practice, emergency care and was the lead surgery technician at her practice in Ireland. She is passionate about animal behavior and nutrition and is always learning new ways to help better the lives of her patients. In her spare time she loves to read, travel and hike with her dog Ryn. We are so happy that Amanda has joined the MVH team and is able to share her vast knowledge with our clients.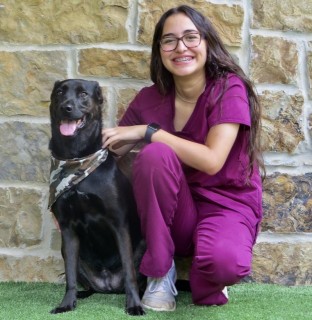 Torie, Veterinary Assistant
Torie has always had a love for animals and has been apart of Magnolia FFA since the 7th grade where she is currently serving on their chapter officer team as their Treasurer. Along with this, she raises both market lambs and rabbits, is involved in their competition speaking teams and is on the Veterinary Science judging team.
Torie began at Magnolia Veterinary Hospital as a volunteer and joined our team about eight months later. She is currently in the process of getting her CVA (Certified Veterinary Assistant) and has one dog named Bella Onyx.
Katelyn, Veterinary Assistant
Katelyn has always had a passion for animals, large and small. She loves to learn about animal behavior and how to apply that knowledge to make her patients comfortable during their vet visits. She worked at a pet resort previously and now has worked in the veterinary field for almost three years. Katelyn was raised in Tomball and is familiar with the surrounding areas like Magnolia and Waller. When she's not assisting our technicians and doctors, you can find her at her lake house or a concert, she also loves to be outside with friends, her spouse Josh and 8mo old son Jameson. She has 2 dogs, Brody (7YO Basenji) and Ferda (6YO German Shepard Mix).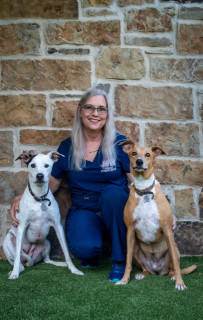 Karyl, Receptionist
Karyl was born and raised in Michigan and then spent 34 years living in Maui where she worked 13 years in the veterinary field and found her love for helping animals. She moved to Texas last year to be closer to her husband's family. When she is not answering phones here at MVH, she enjoys sewing and spending time outdoors with her husband Shannon and her dogs KeKinaOle and Hapuna.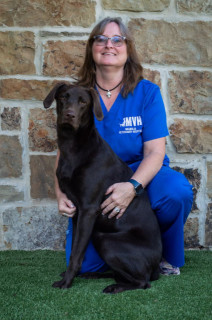 Susan, Receptionist
Susan brings 20+ years of Veterinary Medicine experience to MVH. She has previously worked in all areas of the hospital but her passion is customer service. She has lived in the Magnolia/Hockley area for over 20 years. When Susan is not hard at work manning the front desk at MVH, she takes care of her "herd" of cows, chickens, dogs and a cat. She also enjoys spending time with her husband soaking up the sun at their bay house.